The Super Station is a popular Location in Sodor. It's a tall station where engines hang out.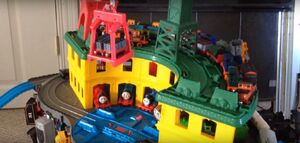 Visual Appearance
The Super Station is a tall station, with 2 ramps. at the top, there's a big shed with a turntable. The tracks are super-compatible, which Trackmasters, Minis, Adventures, Wooden Railway, Wood, etc... The base of the station area is a semi-circle, which the track goes 180° around the semi circle, with 2 switching points to turn in to the turntable. Connie is also part of the station, as he holds a carrier that picks up engines, rolling stock, etc... Detrick is also character who works there. Thomas usually hangs out there, with his other friends. There's also a ground track, which is also super-compatible.
How it came to be
In Island Tales Episode 11: The Super Station, Sir Topham Hatt assigns Thomas, Annie and Clarabel to go up to a new addition to The Railway Exhibition. As Thomas was going, he gets switched on to another track so Leoneard pass by, not seeing the tall structure before he passes. Thomas was shocked as he saw the super station. Thomas explores the Super Station, seeing some of his friends in the process.
Trivia
The Super Station is the only location with the most appearances, totaling around 60-70 times.